Back
Hi!
I am Christine Catanach
Physical Education/Coach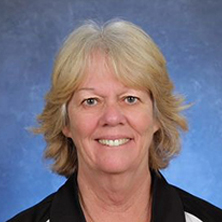 I am from Glasgow, Scotland
I've been working at OLOL since August 2000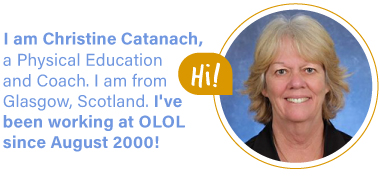 About Myself
I came to the United States from Scotland on a tennis scholarship to the University of Miami when I was 17.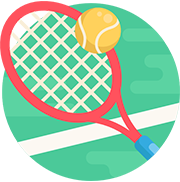 My first career was in broadcast journalism. I was a writer/researcher for an award-winning children's television news program. During a period when I was staying at home raising four children, I began volunteering at OLOL with Coach Diane Kunkel in the PE Department. When there became a need for a second PE teacher, I was hired.
I was "Maria" in the school production of "The Sound of Music."
I have been the Assistant Coach for Basketball, Flag Football, Cross Country, Track and Field and Softball. I am the Director of Communications for the Athletic Department and the HASA Historian.
Outside of Jaguars
My husband Jeff owns a UPS store and art handling business.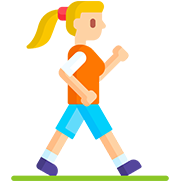 My children Chris, David, Tara and Stevie all graduated from OLOL. Chris is an editor in Los Angeles. Tara is a case worker for the International Rescue Committee. Stevie is an attorney in Boston. David was the ultimate Jaguar. He is our family's inspiration in life. We strive each and every day to "Live Like David".
I love to travel, write, watch sports, go for long walks, and spend time with my family and friends. I enjoy playing Tennis.
Jaguar Memories
I am incredibly proud of the successful Athletic Program and Facility that I have helped Coach Kunkel build from the ground up over the past 21 years. We have won the All Sports Award 14 times. This award recognizes the most successful sports program in the Archdiocese of Miami.
I am also beyond grateful for the opportunity to have worked with Coach Kunkel all these years, to have shared in her commitment to provide equal opportunities for female and male athletes, and to have had the distinct pleasure and privilege of mentoring so many phenomenal students and athletes.
I love to teach life lessons through PE and sports and sharing the joy of all our championship victories with our athletes and coaches.
My favorite event of the year is the Athletic Banquet.