Back
Hi!
I am Ana-Yvette de Atienza
I am a Third Grade Teacher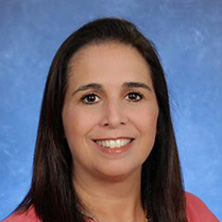 I am from Miami, Florida
I've been working at OLOL since August 2006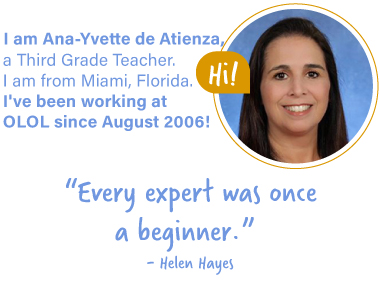 "Every expert was once a beginner."
Helen Hayes
About Myself
I have always wanted to become a teacher. When my oldest son started at OLOL, I was blessed to become part of the Our Lady of Lourdes' teacher family.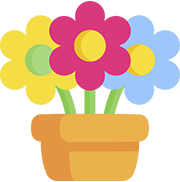 Teaching brings me great joy. I am further blessed to be a Catholic school teacher bringing the love of Christ in every subject I teach.
I believe learning is a process and much like flowers, students bloom at their own pace. Every student can achieve their full potential with self-confidence. I pray my students see my classroom as their happy place where they can share ideas, laugh, and create memorable learning experiences.
I teach my students Love of Christ, Self-confidence, Patience, Positive thinking, and Determination.
Just be you!
I teach my students Love of Christ, Self-confidence, Patience, Positive thinking, and Determination.
Outside of Jaguars
I am married and have three terrific kids, Diego (OLOL Class of 2017), Catalina (OLOL Class of 2018) and Andres. Andres is currently in sixth grade.
Outside of the classroom, my three kids keep me busy with their sports and dance activities. We have a large extended family and many friends. Our home is always shared with others. A few years ago, we hosted a high school exchange student from Spain. She has become part of our family as well.
My favorite things to do is to go to see a ballet, musical, and to see my daughter perform.
Jaguar Values
I think it is funny that my first Pre-K 4 class baptized me with my name, Mrs. D. Fifteen years later, everyone still calls me Mrs. D. It's even funnier when they call my husband Mr. D.
I have enjoyed serving as the moderator for our school dance team, the Jaguarettes and the Missionary Club.
Each of my students have built the great memories I have as a teacher. Each student has touched me in a different way and for different reasons. I have learned so much from them throughout the years.
I love creating new projects to learn more about topics we discuss. It is amazing to see how much we learn through creativity. My students are always asking me what project is next. It is no doubt students look forward to these experiences too!