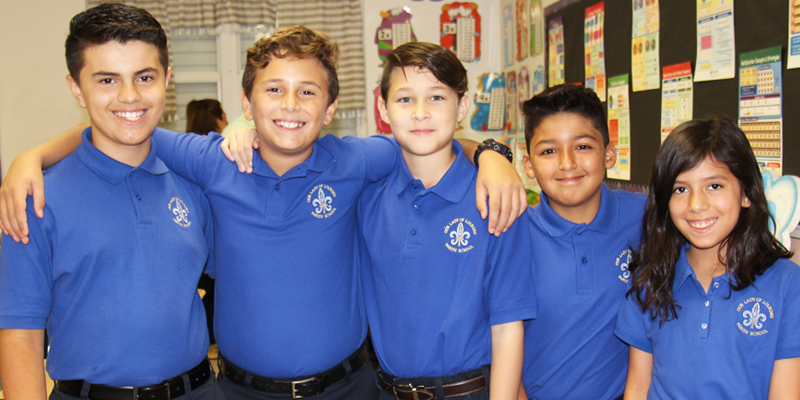 2023 - 2024 General Information
Click on the button "Apply Now", below in this page, to apply online.
The application fee is $50.00 per child. This fee includes the entrance exam/screening and is nonrefundable.
Applications will be considered and scheduled for an entrance exam contingent on space availability.
We are no longer accepting applications to the 2023-2024 School Year. Applications for the 2024-2025 School Year will open in October 2023.
Entrance Exam/Screening
As part of the admissions process, all prospective students are required to take an entrance exam/screening upon receipt of an online application.
Students entering PK3 - 8th Grade will be contacted individually to schedule an in-person screening/entrance exam.
Admissions Criteria
Entrance exam/screening
Current school record and previous year's report card
Prior year standardized test results
Given the mission of Our Lady of Lourdes Parish School as an agent of Catholic Christian formation, the school will give preference to:
Students whose parents demonstrate an understanding of the specific Catholic nature of the school and a desire to participate in that mission.
Students whose families are active members of Our Lady of Lourdes Parish.
Together we will evaluate if our mission and values align to ensure that Our Lady of Lourdes Parish School is the right fit for your family.
In matters of admission and registration, the Pastor and Principal decide the specific method of selecting students and their selections are final. According to Archdiocesan policy, a child must meet the following age criteria upon entering school:
A child entering
must be
Pre-K3
3 years old
on or before September 1st of that year
Pre-K4
4 years old
Kindergarten
5 years old
1st Grade
6 years old
Non-Discriminatory Policy
Our Lady of Lourdes Parish School admits students of any race, color, sex, national or ethnic origin offering all the rights, privileges, programs and activities generally accorded or made available to sudents at the school. The school does not discriminate on the basis of race, color, sex or national or ethnic origin in the administration of its educational policies, admission policies, scholarship and loan programs.