Back
Hi!
I am Angela Houston
I teach Middle School Language Arts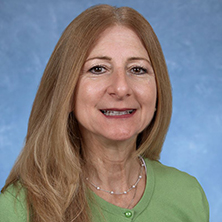 I am from Miami, Florida
I've been working at OLOL since August 2015
Not all of us can do great things, but we can do small things with great love."
- St. Teresa of Calcutta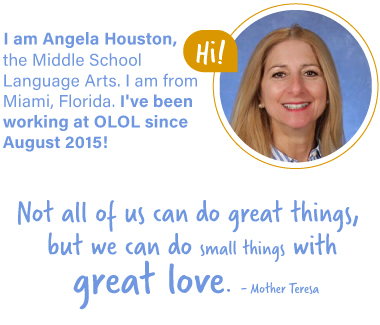 I love helping Children learn new Things!
About Myself
I have five siblings and I went to Catholic School.  As a child, I wanted to be a veterinarian.
I decided to become a teacher after working in a daycare center while I was in college. I love helping children learn new things.
Outside of Jaguars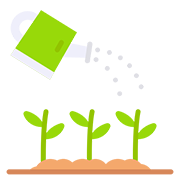 I love the outdoors, especially when I am kayaking, paddle boarding, cycling or gardening. My garden is my favorite project.
I miss my son, Michael. He recently got married to a wonderful girl, Jen and moved to N.C. I miss her too!
I have a very sweet female Dapple Dachshund names Chole, who is almost two years old.
I look forward to Christmas morning breakfast and presents each year.
Jaguar Values
I teach my children the qualities of integrity, humility, kindness, gratitude and faith.
Lead with love in all things.