Back
Hi!
I am Ileana M. Palacios
Middle School Math Teacher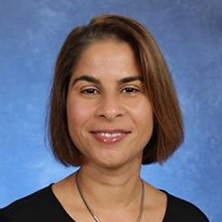 I am from Nicaragua
I've been working at OLOL since August 2011
God is Good, All the Time and All the Time, God is Good!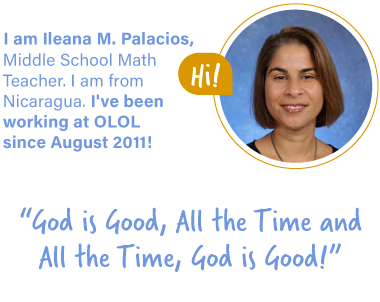 About Myself
I love orchids!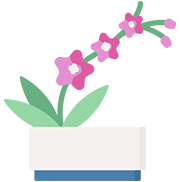 When I was growing up, I wanted to be an interior decorator.
I worked in corporate accounting for 11 years. When I was working as an accountant, I would always volunteer at OLOL. When I would volunteer at OLOL, I realized that I loved being around kids and helping them.
Outside of Jaguars
I am married and have two boys. My oldest son is in college and my youngest son is in high school.
Leonel Palacios is our Miniature Schnauzer. He is very loving and caring.
I love to watch my kids play soccer. I love to garden.
Jaguar Memories
I work with National Junior Honor Society, the Decathlon and St. Brendan Academic Olympics.
My favorite event of the year is Helping Hands.