Back
Hi!
I am Michelle Rodriguez
6th-8th Grade Math Teacher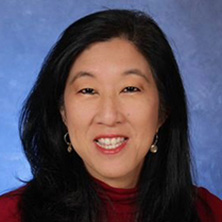 I am from Kingston, Jamaica
I've been working at OLOL since August 2004
"As for me and my house, we will serve the Lord".
- Joshua 24:15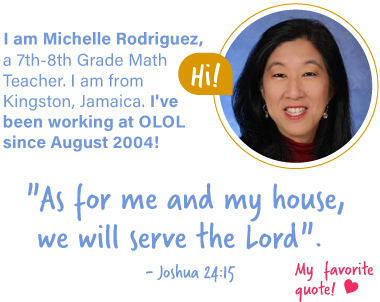 About Myself
I attended 4th grade in three different countries: Jamaica, Canada, and the United States.
I always thought I was going to be a lawyer.
I was an Actuary for 9 years, calculating workers compensation insurance rates. I realized it was not my calling. I loved the thought of being a teacher. After the birth of my 3 children, I stayed home or 5 years and then slowly started back to work as a substitute teacher.
After substituting for Mrs. Sanchez in her 8th grade Algebra Class, I found my calling. I have been at Our Lady of Lourdes for 17 years and it has been the only school that I have ever taught at.
I have been the OLOL National Junior Honor Society Chapter Advisor for the past 10 years. I am the math coach for the Academic Olympics team.
I teach my students Love, Self-discipline, Kindness, Honesty and Service.
I teach my students Love, Self-discipline, Kindness, Honesty and Service
Outside of Jaguars
My husband Ernie and I have been married for 29 years. We met at the University of Miami in Linear Algebra class and our wedding anniversary is March 14th, which is Pi Day!
We have three children (all alumni of OLOL):
Annalisa (24) is working on her Doctorate of Occupational Therapy
Gabriella (23) works at Baptist Hospital as an RN
Julian (20) is working on his Mechanical Engineering degree at UCF
We are a very close family who love to travel and serve together. We love to snow ski, discover new places, and eat exciting new foods.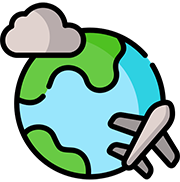 We have two dogs: Chewy, a Shih Tzu mix and Pepper is a Spaniel-Papillon mix.
I love to crochet blankets that I sell through the Corona Crochet Club to raise money for pilgrims who cannot afford to go on pilgrimage to Lourdes, France. I love how it pushes us to be creative and think outside the box.
I rediscovered a few of my hobbies during the pandemic. I love to crochet, do jigsaw puzzles, and recently I learned how to draw Disney characters from YouTube videos. I also like to exercise at the gym.
I am a very active parishioner of the Our Lady of Lourdes Church. I work with altar servers both in school and for the church. I am the Youth and Young Adult Director of the Hospitalite de Miami. I am a Eucharistic Minister of Holy Communion. I belong to the Women's Emmaus Group. I organize and help to facilitate the CRS Helping Hands Meal Packing event. I am a founding member of the Corona Crochet Club. I helped to form the Love and Respect Ministry for couples. I worked to promote and facilitate groups for the Consecration to St. Joseph.
Jaguar Memories
I never thought in my life that I would ever have the title of "Cheerleading Coach" after my name. Together with my eldest daughter who helped to choreograph the routines, we finished Second Place overall for the season.
It is always satisfying as a teacher when you see "the light bulb switch on" in a student's face. One year, I had a particularly difficult student who gave me and his other teachers resistance at the beginning of the school year. But somewhere along the line, he developed a love for math and figured out that he was really good at it. He later told me that he appreciated that I never gave up on him.
I teach service to my students. When we first started to host the Catholic Relief Services Helping Hands Meal Packing Events, I had students tell me how good it made them feel to help others. They then continued their service to the community and their church.
My students and I pray together three times a day. That's an amazing privilege that we get to enjoy freely at Our Lady of Lourdes Parish School.
I miss being able to hug my students.
I believe that God placed me at Our Lady of Lourdes to help to bring the church and the school together. It is so important for our school families to come to church as a community and family so that we can serve together, worship together, and pray together.