Back
Hi!
I am Miriam Ruiz-Sganga
4th Grade Teacher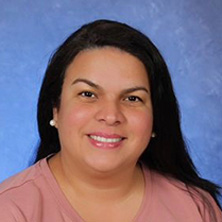 I am from Bostom, Massachusetts
I've been working at OLOL since August 2008
"Why fit in when you were born to STAND OUT?"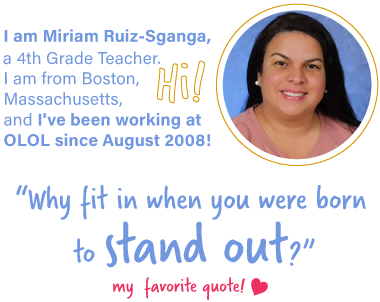 About Myself
I always enjoyed helping people, making them happy and that is why I always wanted to work in a field that I could make a difference.
I wanted a job that would fulfill me and also allow me to be an active part of my child's life. O know that every day I will be making an impact on someone's life. I could never imagine doing anything else with my life.
As a teen, I worked at Sunshine School uniforms. During college years, I worked for a while at a bank but then went back to my teaching career. During my teaching internship, I was an after-school tutor for students struggling with reading. I later became a substitute teacher. Lastly, for seven years, I was a special education teacher for the Miami Dade County Public School System.
In August 2008, I joined the Jaguar family. Today, I teach 4th graders, while helping in the Garden Club and with raising funds for the school via the Box Tops program.
As a very active mom, I help both of my daughters with their after-school extracurricular activities.
I am very proud to say that I have never missed a competition, soccer game, a horse riding lesson, or running meet. Some people may not know that I was Assistant XC Coach in 2016.
Outside of Jaguars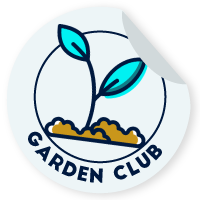 I am married and have two daughters. Isabella graduated in 2019 and Gabriella graduated in 2021, both from OLOL. I have two sisters and they also are teachers in OLOL. My two dogs are Dachshunds. One is a short haired black and tan dachshund and the other is a long haired reverse chocolate dapple dachshund.
I love spending the entire day at the beach with my family, going for long drives with my daughters, listening to music and talking. We have a lot of fun at our Keys house. We have a house in Miami that's on a lake where we feed the ducks and turtles in our backyard, fish in our lake or go out boating . I also love creating crafty things, organizing my house, watching movies on Netflix and relaxing.
Jaguar Memories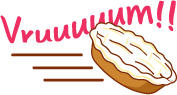 I will never forget the day that I got PIED on my face by a student in front of the entire school during Boosterthon!!
My best memories as a teacher is receiving letters from my students letting me know how I have made a difference in their lives.
An inspirational event in OLOL was when both of my daughters received the gift of Consecration of Mary.
OLOL is such a wonderful school. It's very family oriented. I feel truly blessed that a lot of my family members have attended OLOL. I really enjoyed and miss teaching my two nieces, two goddaughters as well as my two daughters. Looking forward to teaching my two nephews in the near future.